Volunteers Make the Museum Work
Every Tuesday, a dedicated crew of volunteers gathers to maintain and enhance the Museum, service and maintain the planes and maintain the Airport grounds.  Here is a photo of Museum members painting the floor of the hangar.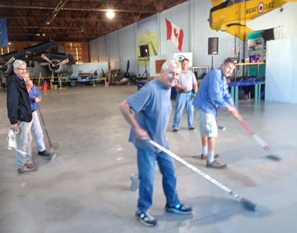 A huge Yard Sale on our opening weekend raised significant funds, but it also meant many members were involved in setting up and running the sale.

We were one of the stops on the Rotary Man Cave event on May 14, 2016.   Several of our volunteers showed visitors how the Museum works.  Here Don Messner is ready to give visitors a tour of the Museum shop. 
It is not all work and no play.  The finale of the Annual Elimination Draw always features Museum members in a fun skit.  In 2016 12 Museum members dressed in costumes representing the months of the year.  The volunteers paraded onto our stage to the tune of Neil Sedaka's 1960 hit "Calendar Girl".
Come out and share your talents as well as enjoy good fellowship.

Monthly Membership Meetings
Members from the local area come out to the Museum at 10 a.m. on the second Saturday of every month for an update on Museum business, hear an interesting speaker, and socialize during lunch.  (In June the meeting is on the 3rd Saturday because of the Mudcat Festival)
Visitors are welcome to join us.
Museum now open on Tuesday mornings, or by appointment
We are open Tuesday mornings all year long from 9 a.m. until 1 p.m. You can arrange a tour by sending an email through the Contact Us page.
Copies of recent Museum Newsletters now available on the Web site.
Any one interested in newsletters since February 2015 can access those through the News page. 
Records of No. 6 SFTS Trainees
The Museum records of pilot trainees has been converted to searchable digital files to facilitate the search for student names in response to requests from family members. We also have the details of the 47 men who died while training at the No. 6 SFTS, as well as a book detailing every member of the RCAF who died during WW II.  Send requests using the email form on the Contact Us page.
Fatalities at No. 6 SFTS
Details of the 47 fatalities while the base was in operation as a training facility are available by clicking on this link.  
---
Links to other WW II Aircraft heritage sites are provided at the end of the Tour page.