Welcome to the No. 6 RCAF Dunnville Museum
There is a little-known gem of a museum in Dunnville, Ontario that preserves artifacts and training aircraft from the No. 6 Service Flying Training School (SFTS). This was one of 41 such facilities in Canada as part of the British Commonwealth Air Training Plan (BCATP).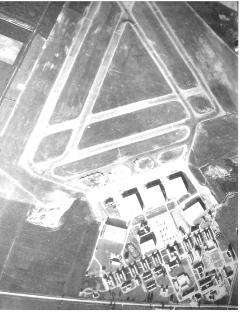 Starting in late spring of 1940, Timbro Construction turned working farmland into an active airfield that was to become the site of the No. 6 SFTS, including five hangars, three double runways, 50 H-huts, a drill hall, a canteen, a fire hall, and other buildings. The site was chosen because it was not near controlled air space and was close to the open water of Lake Erie. The No. 6 SFTS was one of the first Service Flying Training Schools to be built especially to train Air Force pilots. As a result, it was the only one to use structural steel in the construction of the hangars. (Those five hangars are still in use today.) Subsequent Service Flying Training Schools were built using wooden trusses to preserve steel for the war effort.
The No. 6 SFTS officially opened on November 25, 1940. The first class of pilots earned their wings on February 10, 1941. The last of 53 classes graduated in November 1944. A total of 2,436 pilots from Canada, Great Britain, Australia, New Zealand and the United States earned their wings here. Training aircraft included 46 Yales, 49 Harvards and 12 Cornells. During the four years of operation, 47 men lost their lives . Six Yales and 26 Harvards were destroyed in training accidents.
After the War, the No. 6 SFTS was decommissioned and became the Dunnville Airport.
In the mid-1990s, a group of interested individuals began discussing the possibility of a museum on the site of the former No. 6 SFTS. After many hours of volunteer effort, the possibility turned into reality with the Grand Opening of the No. 6 RCAF Dunnville Museum on July 5, 2003.
Today the Museum features:
EXTENSIVE DISPLAYS of photographs, uniforms, memorabilia, medals, and artifacts, including some used at the No. 6 SFTS. Because of these extensive displays and artifacts, a retired Air Force officer said this was "One of the best Air Force Museums I have visited."
VINTAGE AIRCRAFT of the type used at the No. 6 SFTS and other training bases, including a Yale, a Cornell, and a Fleet Finch, as well as realistic models of a Spitfire and a Mosquito bomber. Also on display are a Grumman Tracker that flew off of the HMCS Bonaventure, and a World War I Nieuport 17. As the Dunnville Airport is now closed to flight operations, we no longer fly any of these planes.
FLIGHT SIMULATOR that allows ground-based pilots to "fly" a wide variety of vintage aircraft to any former training base in Canada.
A MEMORIAL GARDEN that honours the men who lost their lives while training at the No. 6 SFTS, as well as those who were in training at the No. 16 SFTS in Hagersville and the No. 1 Bombing and Gunnery School in Jarvis.
A LIBRARYof books and video tapes about aircraft and the men who flew them.
Through these memorabilia and vintage aircraft, visitors gain a sense of what it was like for the young men from Canada, the UK, Australia, New Zealand and the USA who trained at the No. 6 SFTS and served during World War II in the European Theatre. Some visiting veterans, and family members who lost loved ones during the War, find the Museum an emotional event.
New Feature Added
If you want to see more detail on the embedded photos, just click on a photo and an enlarged version will open in a new window.
About Us
The Museum is an all-volunteer organization with no government or outside funding. The annual operating and capital budget is covered by memberships, donations, sponsorships and fund raisers.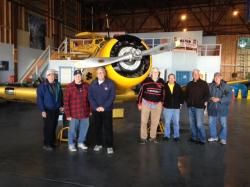 Memberships are the life blood of the Museum. Three types of memberships are available: Annual ($50), Lifetime ($500) and Corporate Lifetime ($1,000). Please contact us for details.
Every Tuesday a dedicated crew of volunteers comes out to the Museum to work on new projects and do necessary maintenance. Come out and join us!
NEWS
WW II Vets to be Honoured at 3rd Annual Dinner
The Third Annual Dinner to honour the RCAF vets who are Museum members will be held on Sunday, Oct. 19 at the Queens Hotel in Dunnville. The social houor will start at 5:30 followed by dinner with a choice of two entries. Our veterans and their accompanying persons will be the guests of the Museum. Museum members and their guests are asked to pay $20 each. Please register in advance so we know how many to expect. Call 905-701-7223, or talk to a Museum member.
Last year seven of our then 10 veterans who live nearby were able to attend. Front row l. to r. Rod Davidge, Ed Carter-Edwards, Floyd Smelser. Back row l. to r. Jim Bird, Ken Bain, Don McKenzie, Joe Weir.

---
Museum now open every Tuesday morning
To take advantage of the Tuesday morning work crew, we are advertising that the Museum is open from 9 a.m. to 1 p.m. on Tuesday all year. Tours can be arranged at other times by calling 905-774-4799.
---
Special WW I Display on Remembrance Day
Following the ceremony at the Dunnville Cenotaph the Museum will be open from noon until 4 p.m. In addition to the WW I artifacts and 7/8 scale replica of a Nieuport 17 fighter, there will be special displays about the men from Dunnville who died while fighting in France, the letters they sent home and how the citizens of Dunnville supported the War effort.
Dunnville Airport Closed, but the Museum remains open
On May 30, the Dunnville Airport closed to flight operations. (See the News page for details.)
Records of No. 6 SFTS Trainees
The Museum records of pilot trainees has been converted to searchable digital files to facilitate the search for student names in response to requests from family members. Send requests using the email form on the Contact Us page.
---
Links to other WW II Aircraft heritage sites are provided at the end of the Tour page.