The No. 6 RCAF Museum houses two airplanes not related to WW II.
---
>> CLICK ON AN IMAGE TO VIEW IN LARGER SIZE
---
Grumman S2E Tracker
The Grumman S2E Tracker is a favorite with young visitors because they can climb inside and sit in the cockpit.
Trackers operated from the HMCS Bonaventure and various shore bases for anti-submarine duty.  It was donated to the Museum by Daniel Ricker.

After the Bonaventure was decommissioned in 1970, shore-based patrols continued until 1981.  
The few remaining Trackers served until 1990 doing fisheries protection and maritime patrol duties. A few were converted to water tankers to fight wild fires.
---
Nieuport 17
Our second static display is a 7/8 scale replica of a Nieuport 17 donated by Jock Williams.
This plane  was #3 of a Chandler Arizona-based team that did flypasts for military funerals and other patriotic events.  When that team broke up in the fall of 2006, two of the Nieuports were bought by Jock Williams and brought to Dunnville.  Both were in flying condition until the landing gear on this one failed and the plane ended up on its nose. Fortunately, the pilot was not hurt.  
Jock Williams donated the plane to the Museum as a static display.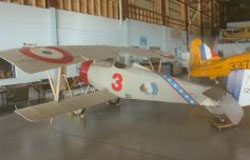 Museum volunteers repaired the damage plane so it could be safely displayed. Visitors are amazed by the small, cramped cockpit.
(The other Nieuport was sold to a buyer in Australia. Museum volunteers assisted in disassembling the plane for shipment.)