No. 6 SFTS Video On-line
Karen Richardson from the Haldimand County Museum arranged for several "Heritage Minutes" videos to celebrate Canada's 150th Anniversary.  One of the first was at the No. 6 RCAF Dunnville Museum.  It can be viewed at https://www.youtube.com/channel/UClLa5YRQy52Y0bjH9lTNixg.  
Two actors representing a student pilot and a flight instructor, and two women as members of the Women's Division, depict a student pilot getting ready for a solo flight in a Cornell aircraft.
Feb 2019 Newsletter  Feb2019newsletterforwebsite.pdf
June 2016 Newsletter June 2016
November 2015 Newsletter nov2015-forwebsite.pdf
February 2015 Newsletter Feb2015.pdf
Plaque Dedication April 13, 2014 - Dedication of Buchenwald Memorial Plaque
After nearly 70 years, a plaque was dedicated at the Buchenwald Concentration Camp to recognize that 168 Allied aircrew were illegally imprisoned there from August 20 to November 28, 1944. The Memorial Plaque publicly recognizes for the first time that Allied aircrew spent more than 3 months there under terrifying circumstances, and honours two aircrew that died in captivity.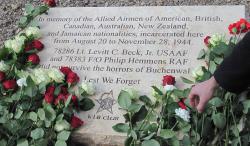 Ed Carter-Edwards, one of those  there and a member of the No. 6 RCAF Dunnville Museum, attended as a representative of the Canadian aircrew.  He was the first to lay a rose on the Memorial. Ed was the wireless radio operator in a Halifax bomber shot down over France. He parachuted safely and was able to connect with the French Underground.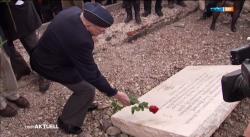 The Underground moved him to Paris in stages where he and another aircrew were to be driven to Spain by a young French couple. If they made it to Spain safely, they would be able to return to England. Unfortunately, a Gestapo informer had infiltrated that branch of the French Underground. The Gestapo stopped the car as it was leaving Paris and all four were arrested. The two aircrew and the French couple were temporarily sent to a prison in Paris before being loaded in cattle cars and sent to Buchenwald. Ed and the other aircrew were charged with espionage. Ed believes that the French couple were sent to the gas chambers. It was only the intervention of a high ranking Luftwaffe officer who arranged for the transfer of all of the remaining Allied aircrew to a POW camp. To hear Ed Carter-Edwards address at the dedication go to https://www.youtube.com/watch?v=KnOj9j-U9pk3 
On a sad note, Ed passed away on February 22, 2017.  He told many audiences of his experiences at the Buchenwald Concentration Camp.  Ed will be sorely missed by his many friends at the No. 6 RCAF Dunnville Museum for his upbeat attitude and sense of humour.
The museum is closed until further notice in accordance with provincial guidelines regarding the COVID-19 pandemic.
Copies of recent Museum Newsletters now available on the Web site.
Access those through the News page. 
Records of No. 6 SFTS Trainees
Our museum records consist of class photos from a range of the courses graduated from the No.6 SFTS. We also have a book detailing every member of the RCAF who died during WW II. Send requests using the email form on the Contact Us page.
Details of the 47 fatalities while the base was in operation as a training facility are available by clicking on this link.  
Links to other WW II Aircraft heritage sites are provided at the end of the Tour page.
For Dunnville Airport space rental enquirys: Contact Airport Manager